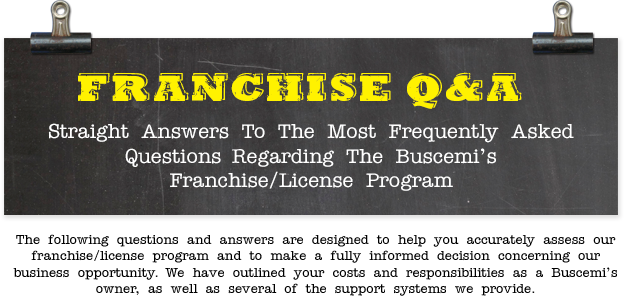 Q. What type of franchise/license program is available?
A. This information covers the store conversion license agreement.
Q. What will franchise/license program cost?
A. The initial franchise/license program fee for an individual unit is $10,000 payable at the time a franchise/license Program Agreement is signed. Buscemi's may offer financing of your franchise/license fee.
Q. How much total cash do I need?
A. There is a wide range. Between $36,000 to $54,000 should be sufficient. The minimum basic costs of owning a
Buscemi's franchise/license break down are as follows:
Franchise/License Fee $10,000
Leasehold Improvements $5,000 – $10,000
Equipment $15,000 – $25,000
Opening Inventory $1,500 – $3,000
Training (travel, food & lodging) Included in Fee
Grand Opening Advertising $2,000
Signage & Menu Board $2,500 – $5,000
  TOTAL $36,00 – $55,000
Q. Does Buscemi's offer a finance program?
A. No. But we will assist you in whatever way we can in arranging financing. We can in some instances direct you to sources that other franchisees have successfully obtained loans from. However, these third parties and their decisions are independent of Buscemi's. Buscemi's may offer financing of your franchise/license fee.
Q. Are fixtures and equipment competitively priced?
A. Yes. All fixtures and equipment have been specially selected and developed to be compatible with the Buscemi's concept. At the same time, we are concerned about maintaining low prices so as to allow as many people as possible the opportunity to afford their own Buscemi's business. Used equipment is another option and also available.
Q. Must I buy my equipment and supplies from you?
A. No. Items necessary for the operation of your business may be purchased from individual dealers, distributors, and/or manufacturers. However, in most cases our purchasing power can provide you with the most favorable pricing on products compatible with our concept.
Q. What is the charge for continuing service and royalty?
A. Flat fee of $600.00 per month
Q. What about advertising?
A. Building recognition of Buscemi's name and reputation is an essential ongoing objective that benefits everyone. For this purpose each franchise will be charged accordingly to what advertising is appropriate by its franchise or license and will be split accordingly by each franchise or license.
Q. Will my territory be protected?
A. Yes, each franchise/license owner is allotted an area in which no other franchise/license is awarded.
Q. Do I receive training by Buscemi's?
A. Yes. We will train you or designated employee in your location and will stay for first 7 days of converting your store to a Buscemi's. The cost of this initial training is included in your franchise/license fee. (See question #3).
Q. Do I receive assistance in opening my business?
A. Yes. In addition to you're initial training period, an Operations Specialist will work with you in your store during the first weeks of operation.
Q. What form of continuing operational guidance will I receive?
A. First of all, you will receive a Buscemi's Operations Manual covering the many important facets of your business operation. As the manuals are updated, revisions will be made available to you. Periodically, you will receive company newsletters containing useful management information and bulletins, which spotlight important happenings. You will also receive regular visits by our field representative who will consult with you and offer useful advise and counsel on such systems elements as identity, quality, customer convenience, product information, advertising, record keeping, training, communication, and incentives.
Q. Do I receive guidance on the purchase of inventory and supplies?
A. Yes. Our Operations Department evaluates suppliers based on their ability to provide products that equal or exceed our specifications and high quality standards, in sufficient volume and at the lowest competitive prices, and recommends these sources for your use.
Q. Does Buscemi's have inventory control forms and other business aids I can use?
A.  Yes. We have designed a complete variety of forms for inventory control, daily and weekly sales, payroll registers, and other business aids vital to the correct and efficient operation of your unit. You'll also receive ads, flyers, and other marketing materials, which have been professionally prepared to promote your business.
Q. Who decides what prices I will charge for products and services?
A. You do; however, we will provide you with a detailed guide, which will help you with suggestions in this area.
Q. Can I sell my Buscemi's franchise/license?
A. Yes. Like any other business, your business can be sold to any buyer approved by the Company. There is a transfer fee for administrative, legal, and training expenses to affect the transfer and, if requested, we will offer your business for sale for a sales commission.
Q. What is the term of franchise/license agreement?
A. The basic term is 10 years. You may renew for two additional 5-year terms at the then current agreement terms with no additional franchise/license fee.
Q. How long before I can convert my store to a Buscemi's?
A. Typically within 30 – 60 days of signing franchise/license agreement.
Q. I would like to study your Franchise/License Agreement. Will you send me one?
A.  Our Franchise/License Agreement was developed by attorneys and specialists in franchising and is a valued document, which we do not indiscriminately distribute. Following the procedure outlined in Question #20, we will be happy to provide you with a copy of the Franchise/License Agreement and our Disclosure Statement.
Q. How do I get started?
A. First, fill out the Franchise Evaluation Form and submit it to us. Upon receipt of the application, we will contact you to set up a personal meeting with a franchise/license consultant. After we have had an opportunity to meet each other and the necessary disclosure requirements have been met; the Franchise Agreement may be executed.
We have attempted to answer the most commonly asked questions about Buscemi's. We are sure you must have a few we haven't covered, so please feel free to ask our representative any questions at all. Thanks for your interest. You may reach us by calling 586-296-5560 or Contact Us By E-Mail.